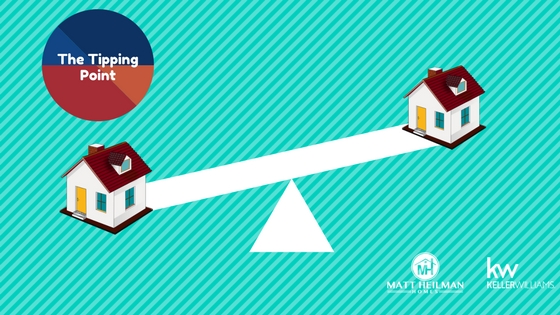 We are in a very interesting time in regards to the housing market. I'm of the belief that we are at tipping point in 2017. We are coming off a year in which there were a record number of home sales, and this despite still not enough homes on the market. This is amazing in and of itself. However, there are two ways I see the housing market shifting over the next year, and I believe we are at a critical tipping point. The market can shift for The Good or for The Bad.
The Good Shift

Coming off a year in which there were record numbers of home sales and sales volume, you'd even wonder why people talk about a shortage of homes on the market. That is still because DEMAND is much higher than supply. We are not in what is considered a balanced market. That being said, the market can even get better with one simple shift – more home sellers decide to list their homes. If that is the case in 2017, we will see a housing market that will shatter any past home sale marks. We will see a housing market that can finally keep up with demand. We will see a housing market that is better than any we've ever seen before. With higher prices, sellers are seeing lots of equity in their homes. An active market combined with these high prices can be a positive for the entire real estate industry.
The Bad Shift

We are not far from the market shifting in a negative direction, either. Real estate cycles usually go in 7-8 year shifts, and given that, we are actually on borrowed time. The Bad Shift could come if home sellers continue to be satisfied in their current home, if interest rates rise, and if home prices get out of control, rather than level off. We will then continue to see not enough homes on the market, sellers and buyers will fade away because of rising interest rates (why sell your home that has a mortgage of 3.5% and get into a new mortgage at 5%?), and first time home buyers won't be able to easily enter the market because prices are too high.
It is possible that the market stays status quo for a while – high demand, not enough homes on the market, and low enough interest rates to keep people engaged – however, I wouldn't be surprised if we saw a shift one way or the other very soon. If home sellers decide now is the time to sell, now is the time to upgrade that home, we will see a positive shift that will set records. If home sellers still stay on the sidelines and interest rates and home prices continue to rise, we may see a downturn in the market after a run of many positive years after the recession. Nobody knows exactly where it will go, but at some point a shift is inevitable.
Matt Heilman is a Realtor with Matt Heilman Homes at Keller Williams Realty in Madison, WI. For any questions or comments, feel free to reach out – matt@mattheilmanhomes.com, 608-279-5771